Facebook Chatbot How To Build One
So, I am excited to share with you my Complete Guide to creating your Facebook Chatbot to boost your brand image, using the Facebook business suite. Therefore, does your Company want a smarter and more strategic approach to digital marketing on your social media platforms Facebook Messenger and Instagram Direct Messenger?
Is your Company looking for cutting through the noise of digital marketing and providing a legacy Brand? Further, I understand the practical solutions of using Facebook chatbot messenger to boost your product sales via digital marketing. Direct marketing on social media is come to be known as measured marketing; it is quantifiable. 
However, I apply this in the interest of building a brand that is known for excellent customer service? You cannot test this every day, but it is part of the story of telling people who I am.
You've heard the buzz, what is a Facebook chatbot? Some have asked the question, how using this innovative feature boost my brand awareness and increase greater customer satisfaction and engagement.
Facebook Chatbot How to build one – please continue.
I, as a business and also as a Consumer, get inundated with the choices provided to me daily. I understand that, like myself, my customer's attention spans are getting shorter. How can we best showcase our products and our Brand? I am working with products that are effectively providing solutions to skincare concerns.
I know that customers are demanding faster results and quicker response time to their questions. So I recognise I need to be producing something different and better to make it in this world, as consumers expect and demand more than just another product.
What you might have heard on tech news or from tech insiders that Chatbots will replace mobile apps. With these timesaving Chatbots cutting your companies costs and increasing your revenue. You might have heard that they will replace your current Marketing Strategy of email marketing, how this beneficial and improved Artificial Intelligence will replace your human customer care agents.
These Ai Chatbots will work for your Company effectively while you sleep. There's much hype floating around right now about chatbots are now advancing and a powerful tool for companies, with most Companies from large to SME (small to medium enterprises) experiencing Social Media platforms for marketing. The next cutting edge tool being rolled out is Facebook Messenger Chatbots in particular.
Facebook Chatbot Ai
According to a survey by Oracle that currently, 80 per cent of businesses want a chatbot in place by 2020.
Can bots do everything they promise? 
A chatbot is a machine learning their way to human language, via intelligence (AI) software program which can simulate a communication (or a talk) with another person in natural language via messaging programs, websites, cell apps or via the telephone or more importantly your Social Media platforms, like Messenger.
To be opened for customer queries, 24/7 customer acquisition this is game-changing, and I am optimistic as with the opportunity. So here are my best Facebook Chatbot how to's with examples. To help you work smarter with a firm footing in this new technology eco-system.
You want to establish a great experience by surprising your customers with delight when they encounter your friendly and engaging chatbot.
1. What is Facebook Messenger Chatbot AI?
A Facebook Chatbot is a piece of improved technology which is automated messaging programming that is used for a machine to converse with people in real-time.
 These powerful Artificial Intelligence bots are now leading how companies on social media communication with customers, engaging in conversation and providing a valuable service to them. Chatbots are programmed to understand questions and are then optimised to respond to these questions with answers. A Chatbot can also execute tasks.
Facebook Chatbot Ai
From your new lead or existing customers perspective, these are excellent and timesaving tools for Companies to implement. It is all for the benefit of the customer and their experience with your Brand.
The benefits are excellent; there are no requirements for opening up an app or downloading one. There is no need to make a phone call to a or going to Google to command a search. I use Chatbot on Messenger to boose and enhance my Brand's awareness, by providing the customers I am appealing to with a service that they are not getting anywhere else. From a Digital Marketing perspective, you want to be accessible to your customer throughout their buying process; however, from a Branding perspective, you want to show them how much you value them.
As Ai Chatbot has been around for some decades and they do exist on Companies webpages, in apps.
The Messenger Chatbot Ai only available on Facebook, that translates to it being able to communicate with some of the 1.3 billion people who use Messenger every month.

Monthly active users of any Facebook product 2020 Published by J. Clement, Aug 10, 2020, The timeline shows the cumulative number of monthly Facebook product users as of the second quarter of 2020. During the last reported quarter, the company stated that 3.14 billion people were using at least one of the company's core products (Facebook, WhatsApp, Instagram, or Messenger) each month. Cumulative number of monthly Facebook product users as of 2nd quarter 2020
With Facebook having over 90 Million Small Business using its free platform.
These business owners are using free tools and apps such as Groups, Messenger.
We have all experienced the drop in organic reach in the last 16 years that this social media platform has been available.
With as many as 87.1 per cent of the US, marketers will implement Marketing strategies using Facebook marketing in 2020 (via emarketer). A small raise up from 2019 ( 86.8 per cent). With a considerable level of saturation, growth will be negligible each year. It is important to focus on other aspects of building Brand awareness.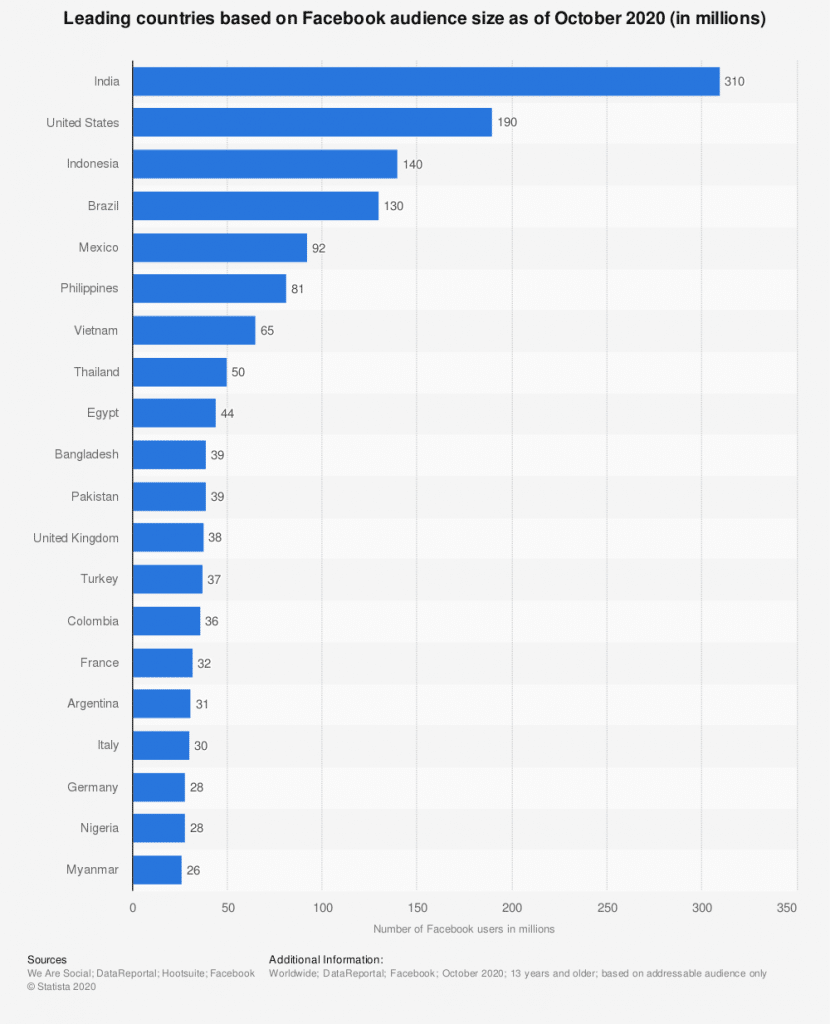 Find more statistics at Statista
Facebook remains the most popular social network among US marketers, with Instagram coming in second at 75.3%.
If you are reading this, you are probably on Facebook, and you also more than likely have optimised the App by installing Messenger in your marketing strategy. 
Facebook Chatbot How to build one
However, I want to implement a system similar to how psychometrics is used to predict how my customers with distinct personalities and shopping behaviour relate to me. With this psychographic branding, I can create a combination of personalised mini-messages created on universal personality types. 
You can bring your Brands Marketing Strategy closer to the customer, enabling you to connect to him or her on a more personal and intimate level.
Facebook Chatbot for Messenger is how you scale your Company up with this strategy, without having to employ extra staff and pay additional wages.
At the F8 Conference in 2018, Facebook only had 300,000 active Facebook chatbots for Messenger. Which is relatively small considering 90 Million businesses are using Facebook
2. Why I Recommend Using a Chatbot on Messenger to boost your existing marketing strategy. 
There are two known unique advantages in implementing a Facebook Chatbot. Number one, there is a shallow barrier for you and your target audience. We know that Messenger is the third most used App in the world and that this App is beneficial in private communications and used by 68 per cent of Facebook app users.
This advanced feature is not just for friends and family. In a Nielsen Survey, it was excellent to discover that many people believed that Messaging was the second-best way to communicate with a business.
Facebook Chatbot Ai
With 2 Billion messages being utilised monthly between customers and business on this social media platform
Seventy-one per cent of users usually delete a mobile app within the first 90 days of installing the App.
Companies, Brands who want to communicate effectively and smarter are looking at building their Chatbot, as it is far more economical than building their bespoke mobile App.
I am here to assure you that the Best Facebook Chatbot Ai is now available for some of you in your Facebook Business Suite. This essential free Chatbot can help your Company in providing enhanced communications with your existing customers or potential customers by answering the Frequently Asked Questions (FAQ) and more. 
In this article, you will learn how to Build Facebook Chatbot or install up the free Facebook Chatbot. 
Facebook Chatbot How to build one
Facebook in their "Business Suits" permits you to customise a chatbot on Messenger and Direct Messages on Instagram on your Business page. The Facebook Chatbots Ai will equip you to have an automated conversation with people who click on your Business Page, Messenger to start a dialogue.
What is the one painful problem I can solve for my customer without a struggle? If you can identify a problem that your goods or service can effectively execute and deliver to the market, this tool is going to heighten the user experience.
In a series of lists or keyword input by your customers, your Chatbot can escort your customers through to the next step in finding the solutions they are looking from you. Effective in eliminating the necessity for a human Customer Experience Assistant, and saving you time and more importantly money. You are yielding a greater return on your investment not financially but in greater customer satisfaction.
Facebook Chatbot Ai
You are providing your potential customers with the ability to interact with your Brand in deciding whether to purchase your goods and services. These Chatbots can effectively arrange an appointment, or answer a Frequently Asked Question, handle customer returns.
The "Chatbot App" allows the customer to type in keywords, and through machine learning, the Chatbot will reply with answers to these keyword questions.
For my business, the customer would presumably be inquiring –
HOW DO I FIND A CONSULTANT THAT SERVICES MY AREA?. The "answer message" from my Chatbot "You can connect with me by sending me an email. I can fit you in with a timesaving virtual appointment".
The best Facebook chatbots have been created with triggers that the Company determines a potential customer might want to know. The Chatbot will respond with blocks of text that will encourage and direct the customer through the loop, informing them without bias on the information that they need. These customers experience an effective way of getting answers at any time of the day from your Company without the pressure to decide immediately.
3. How does the Messenger App Platform work?
When someone accesses your Business page, a messenger window will pop up at the bottom right-hand corner. This App is partially or fully automated for conversations. How it works, the Facebook server is optimised to send webhooks to the URL of the Business server, where the messaging App is hosted.
In using the Send API, the App is able and optimised to respond to the customer on Messenger. This way developer can build a customised guided conversation to lead them through an automated flow.
Some larger and more well-funded Corporates can create an app to be a bridge between your customer and your Automated Experience agents in the absence of a human Experience Agent. You open your shop in any geo-location, and it is open at any time of the day.
However, SME (Small to Medium Enterprises) can access for Free the Messenger app. A feature for businesses to optimise the way they handle inquiries from customers or potential customers. You don't want to undermine your Brand. We all know that to get many likes or clicks when you post something controversial. I choose not to count the likes as this is undermining my Brand.
4. What does a Messenger for Business experience look like?
I recommend you choose an existing Facebook business page. If you do not have a Business page, create one where you want your Chatbot to reside. 
Facebook has a Creator Studio, which is where the Chatbot feature is located on this live dashboard, under Creative Tools tab. This feature is currently only available to a limited number of users. 
It will be more widely available in the future.
Setup two – develop and build your own bot
If you want to develop and build facebook chat ai bot you can use this link https://developers.facebook.com/docs/messenger-platform/getting-started/sample-apps/original-coast-clothing
4. Setup three – How I got started
I accessed my Business Suite. Is available on desktop or mobile for business to access the tools that I need to thrive on Instagram and Facebook.
Facebook Chatbot Ai
It is being improved upon regularly, with Business Suite including tools such as posting, insights, messaging, advertising capabilities which are improving the whole experience of managing my marketing strategies across my business accounts Instagram and Facebook.
Facebook has been successful in translating the research. They have created a better experience for SME across all the Facebook apps, as they understand that we need to save time, to run other aspects of our business.
If you are eligible, you will be automatically redirected to this latest Business Suite, when you visit business.facebook.com on your desktop.
If you are on the Manager App on your mobile, you will notice the choice to opt into this Business Suite.
If you are not currently using the "Manager App", go to the "Android App" store or visit the iOS to download the Business Suite app.
This feature will be rolled out gradually. Note – For those using Ads manager for advertising this is not currently meant for you.
To learn more about Business Suite, visit Facebook Help Centre.
You can get started by creating your Facebook business page. I will give you my examples that can get you started. Once your App is ready to use, you can submit it for evaluation. To begin, you will require Messenger and a Facebook Business Page. 
5. How to attach a Facebook chatbot to your business page.
Using the Business suite where I have installed my messenger bot. I will work through the steps of setting up my Facebook chatbot with examples so that you can complete this. 
Inbox in Facebook Business Suite
Facebook Chatbot Ai
Inbox in Business Suite can support you and make it effortless to communicate with clients who are interested in your brand when you're offline. It can also benefit in save time by allowing you to manage your business's communications across Facebook, Messenger and Instagram Direct in one spot. Business Suite Inbox allows you:
**This product may not be available to you.
How It Works on a Busines Suite – Inbox
Go to Inbox
Scroll to Automated Response
Setting up automated responses:
To respond to the usual common questions about your Brands products or services. This innovation can further assist you in making sure that you don't miss valuable customer engagement. 
Automated responses let you greet customers, share information about your Brands services and products, respond to feedback and communicate about jobs and appointments.
The Messenger App uses a mixture of a simple menu-based bot and an artificial intelligence component. When you click the Message button on my Brands site, a chatbot ai messenger window opens, with a customised greeting that. 
The default "Greeting Message" is on a text card on the Business Suit; This will be the initial impression that your customers will see when they access your Business Page. 
Here is my customised Messenger Chatbot ai Instant reply "Greeting message".
Facebook Chatbot Ai
Social Media Platforms – Facebook Messenger / Instagram DM
Timing – Sent Instantly
Greeting Message Example – "Hi [First Name Personalised], thanks for contacting Me. We've received your message and appreciate your getting in touch. I would love to help you learn more about Rodan and Fields Skincare in Japan. If you wish to use the email, I am available on [email protected]."
My away message Setup –  
Social Media Platforms – Facebook Messenger / Instagram DM
Platform – Messenger
Timing – when I am unavailable
Away Message Example- "Thanks [First name Personalised] for visiting Audrey's Chatbot – as she is away and can't respond right now. I was bored watching Netflix. I really appreciate some human interaction with you dropping by. Please send her an email at [email protected] She would love to chat with you as much as I have."
I encourage you to personalisation both these messages.
Facebook Chatbot Ai
You can personalise your greeting and away messages. It will allow your buyer to feel like you are chatting to them personally. It will be more productive for you, and your customer who is wanting information.
Facebook Chatbot Ai
PS – save your work after each step
6. The Best Facebook Chatbots, get to the point effectively. 
When using Facebook Chatbot messenger to promote your Company though I know that Chatbots are still new, those that are implementing these timesaving Chatbots are optimising their businesses for the future, and being able to scale up faster with spending less money.
7. Adding Frequently Top 5 Asked Questions Customised To Your Business.
– Still in your Business Suite,
– Inbox
– Scroll to Automated Response
– Click on Share and Get Information
– Next Click FAQ (Frequently asked questions)
FAQ Section Customised for my Chatbot AI
Facebook Chatbot Ai
I have included in my business suite; these automated chats can be used in Instagram Direct message. 
The Facebook Chatbot Ai also besides the "Greeting an Away Messages" has five preordained Frequently asked questions that you can customise on the business suite, this will show up as list items.
My audience can select one of these five FAQ with my Chatbot answers.
Facebook Chatbot example Question – Menu.
WHO ARE THE DOCTORS?
Chatbot Example Answer 1– Hello there [First Name Customised],  
Dermatologists Dr Katie Rodan + Dr Kathy Fields are the founders of Rodan + Fields. They met during their residencies at Stanford Medical School. They understand skin + believe its condition can make or break self-esteem. They're committed to providing dermatology-inspired skincare to anyone, anytime without a trip to the dermatologist's office, with a portion of your sale donated to the Rodan + Fields Prescription for Change Foundation. [email protected]
Facebook Chatbot Ai
Call to Action 
Button no. 1 Book a virtual appointment
Website URL – https://www.audreyandersonworld.com/bookings-checkout/private-skincare-counseling/book
Button no. 2 Learn More Skincare Secrets.
Website URL – https://www.audreyandersonworld.com/skin-care-secrets
Facebook Chatbot Example 2 – Question WHAT IS THE RODAN and FIELDS SKINCARE PHILOSOPHY?
Facebook Chatbot Ai
Chatbot Example Answer – "Hi [First Name Customised], We address your primary skin concern, such as signs of ageing, dullness + discolouration, dryness + sensitivity or acne with an easy, step-by-step Regimen. Our Multi-Med Therapy uses the right ingredients in suitable formulations in the proper order to deliver real and visible results. More R+F products can be added for your skincare concerns. Rodan + Fields uses groundbreaking technology so you can have the best-looking skin of your life. 
Please contact me on my email [email protected] "
Call to action 
Button no. 1 Book a virtual appointment
Website URL – https://www.audreyandersonworld.com/bookings-checkout/private-skincare-counseling/book
Facebook Chatbot Example 3- Question HOW DO I KNOW WHICH Rodan and fields skincare REGIMEN IS RIGHT FOR ME?
Chatbot Example Answer 3 – "I would enjoy helping you [First Name Customised], To find the appropriate Skincare Regimen for you; we developed the Rodan + Fields Solution Tool, which I as you Independent Consultant, can lead you through online. Our Solution Tool is an easy-to-use, interactive way to explore and customise your product selection. I can also explain the R+F products so you can find what works best for your skin. 
Leave a message or send an email [First Name Customised] to [email protected]."
Call to action 
Button no. 1 Book a virtual appointment
Website URL – https://www.audreyandersonworld.com/bookings-checkout/private-skincare-counseling/book
Facebook Chatbot Example 4 – Question HOW DO I PURCHASE RODAN and FIELDS PRODUCTS?
Chatbot Example Answer 4 – "Easy to answer [First Name Customised], R+F skincare products can exclusively be purchased through a Consultant who can assist you obtain the right products for your skin. I can provide you [First Name Customised] one-on-one guidance. I have the information and tools to help you design a solution for your skin and find the right R+F products for you. [First Name Customised] you can obtain products directly from my online store instead of from a store. If you don't have a Consultant, I would love to assist you – my contact details are [email protected]."
Call to action 
Button no. 1 Book a virtual appointment
Website URL – https://www.audreyandersonworld.com/bookings-checkout/private-skincare-counseling/book
Facebook Chatbot Example 5 – Question HOW DO I FIND A Rodan and fields CONSULTANT THAT SERVICES MY AREA?
Chatbot Example Answer 5 –  "Hello [First Name Customised], You can connect with me. I am authorised to sell skincare in Japan, USA, Australia and Canada. My appointments are made online via Zoom, Skype or Google meet up.
If you wish to chat with me, please email me at [email protected]
Call to action
Button no. 1 Book a virtual appointment
Website URL – https://www.audreyandersonworld.com/bookings-checkout/private-skincare-counseling/book
Facebook Chatbot Ai
With the FacebookChatbot Ai – You can add more than these five questions. However, they are not shown on the menu.
If your most typical customer questions are on your hours of operation, location, your contact details, directions. To optimise your response, I would create additional questions and answer blocks with essential information to your customer.
If you are an online personal service-based business, you may want to include text blocks, and also provide a "Call to Action button" that will escalate the speed to allowing the customer to contact a Human Experience Agent quickly. That said, the most significant upshot for most founders is finding these painful problems and meeting them with the best solutions imaginable.
If your customer is typing a message in the text box rather than choosing one of the five FAQ on the menu items, the Chatbot will determine an answer with a list of keywords that match one of your solutions in another FAQ question block—facilitating this section of the buying process for your customers.
8. Adding More Frequently Asked Questions Customised To Your Business.
I then continued with these supplementary frequently asked questions; these will not show on the Menu. These questions will have an answer and one to two buttons for a call to action advancing them to my Business URL on the web. This whole user experience is to keep providing them with authentic engagement with my Brand.
The most appealing part of this whole process is going through the questions that your Brand encounters day-to-day. You will have to consider some of your standards and frequently asked questions and come up with highly appealing and suitable responses. There is an opportunity for you to communicate with sincerity in these block text.
Facebook Chatbot Ai
My customised FAQ List of questions are
WHAT ARE THE Advantages OF SHOPPING WITH AN R+F INDEPENDENT CONSULTANT?
HOW DO I Recognise IF MY RODAN and FIELDS PRODUCTS ARE Genuine?
DO YOU Retail YOUR PRODUCTS IN ANY STORES?
WHERE ARE RODAN and FIELDS OFFICES LOCATED?
WHAT ARE YOUR ENVIRONMENTAL, SOCIAL AND GOVERNANCE FACTORS?
CAN I USE PRODUCTS FROM DIFFERENT REGIMENS TOGETHER?
HOW CAN I CONTACT SOMEONE AT RODAN + FIELDS?
ARE THE INGREDIENTS IN RODAN and FIELDS PRODUCTS SAFE?
I AM ALLERGIC TO AN INGREDIENT, WHAT PRODUCTS CAN I USE?
ARE YOUR PRODUCTS SAFE FOR PREGNANT OR NURSING WOMEN?
DO YOU TEST PRODUCTS ON ANIMALS AND DO YOUR SUPPLIERS TEST PRODUCTS ON ANIMALS?
WHAT IS THE SHELF LIFE OF YOUR PRODUCTS BEFORE AND AFTER OPENING?
IS PRODUCT PACKAGING RECYCLABLE? HOW CAN I TELL WHEN THERE ARE NO MARKINGS?
ARE RODAN and FIELDS PRODUCTS VEGAN?
ARE RODAN and FIELDS PRODUCTS GLUTEN-FREE?
WHICH R+F skincare PRODUCTS CONTAIN RETINOL?
You are answering each of these questions with added personalised messages. You want to interact with your buyer in a "Style of voice" they can discern effortlessly. You must seek answers from conversations you have had with potential purchasers who were in the buying cycle. To better connect with them and tailor your message to those consumers. Building "Trust and connect" with those who you need to build a relationship with.
Conclusion – 
As of the 2018 F8 conference, Facebook has 300,000 active Messenger bots. That's three times as many as the year prior.
The second benefit is that the field is still wide open. While Facebook has 6 million advertisers, there are only 300,000 chatbots. That's a lot less competition.
Facebook Chatbot Ai
Meanwhile, marketing email click-through rates (3.1 per cent, on average) haven't changed in years, and only 30 per cent of marketing emails are even opened. Chatbots can benefit you bypass inbox competition too with some fantastic "User Experience". You and your Brand aspire to accomplish a more enjoyable shopping experience. 
Branding is about being the "Tortoise" in the race. You and I are choosing to stand for something, and that is to provide the most amazing customer experience with the best products in the most effective way possible.
Implementing these steps is easy, as you are giving your customer something of value in this engagement. These engagements are more than the logo, the Brand story, and also the products and services. How are you as a Business "adding value to their lives". 
I know why the customer is purchasing my products. They have a discomfort point with their skin, and these products can assist with the outcome they are seeking in feeling better about ageing, or sensitive skin.
So that's the context, in implementing this you are showing them how they should "see, hear, experience" your Brand.
As you have now completed this and integrated your Chatbot into your marketing strategy for Brand awareness. This Chatbot offers the features of a "Customer Experience Agent", email, and app. It will necessitate you to monitor, keeping an eye on the way chatbots continue to evolve for your niche or market. We have only just begun to scratch the surface of this tool?
I will love to know if you have implemented a Chatbot Ai on your Business Facebook yet?